The simple sandwich: A perfect recipe for good writing
Aug. 24, 2023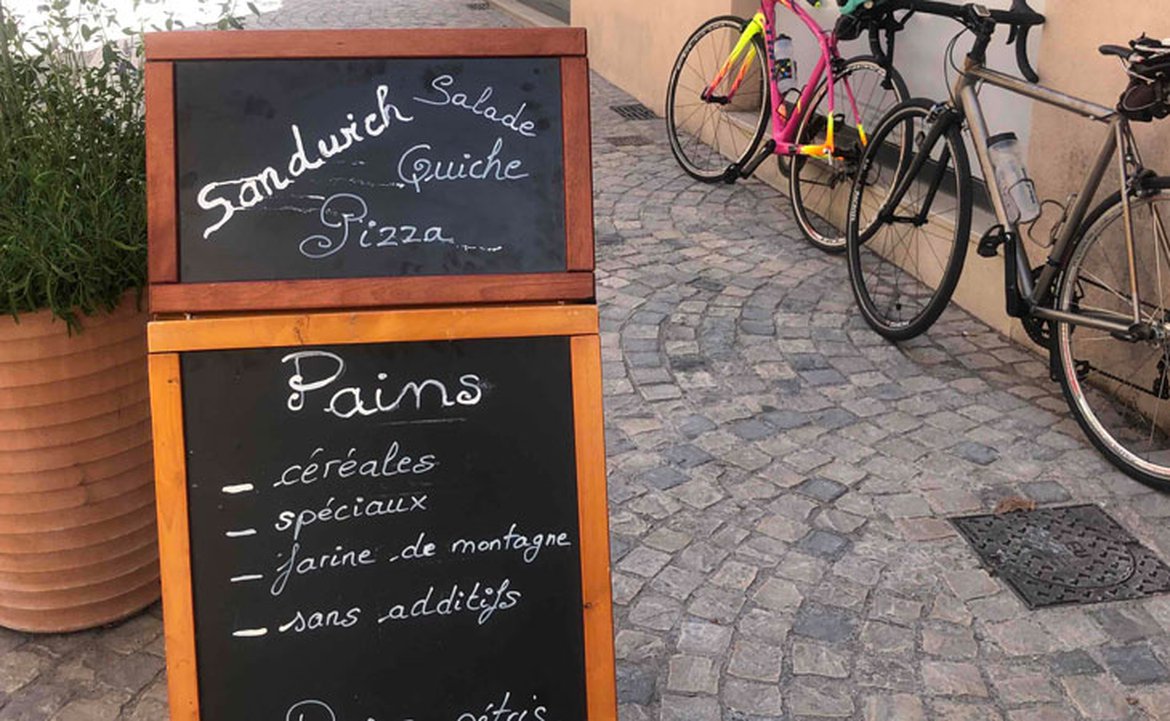 One of the many dilemmas we recreational cyclists face on a long-ish ride is what, exactly, to have for lunch.
 
Eat too little, and you could "bonk"—that is, you run out of the crucial energy needed to get yourself home.
 
On the other hand, eat too much, and you'll feel sluggish. That's because blood, energy and oxygen are all busy being diverted to your gut to digest your meal—instead of doing what they should be doing when you're on a bike, which is fuelling your legs and muscles.
 
Enter the "Baby Bear" lunch, aka the simple sandwich.
 
Let me explain.
 
This past June when cycling in France, Richard and I arrived in the Luberon town of Apt just as everything was about to shut for the afternoon. In case you didn't know, the French (and other Europeans like the Italians and Spanish) often close up shop around 1pm and go home to join their families for a nice leisurely lunch (and perhaps a little siesta).  
 
I applaud this practice—so civilized! Except, that is, when I'm cycling and desperate for food.
 
Luckily, we found a little bakery, and although monsieur the baker seemed poised to shut the door, I very nicely asked him, if, perhaps, s'il vous plaît, pretty please, he could make us just one sandwich before going home to his own lunch.
 
He paused, then replied, somewhat apologetically, that all he had left was ham and cheese. Perfect, I said!
 
And perfect it was!
 
First there was the baguette, crisp on the outside, fresh and firm on the inside. Nestled inside the baguette was a healthy serving of country ham and fine slices of tasty gruyere cheese. To top it all off, there was a soupçon of creamy, salty butter.
 
It was, quite possibly, the best sandwich I have ever eaten. I would even say it was "succulent!"—to borrow a word used by a rather rotund Frenchman in another village when I asked him to describe the food at the local bistro.
 
In honour of August, which just happens to be "National Sandwich Month," let's take a moment to explore how good writing is like a perfectly crafted sandwich.  
 
The bread: foundation and structure
 
Bread has been the foundation of every sandwich since at least 1792, when John Montagu, the 4th Earl of Sandwich, was presented with sliced meat between two pieces of toast—a no-fuss meal the Earl could easily consume without interrupting his 24-hour game of gambling.
 
Similarly, good writing is built on a solid structure. You can't just bang together a few sentences and paragraphs willy-nilly and expect them to amount to something interesting, much less readable. For writing to work, you need a logical outline, a roadmap, a clear idea of who you're writing for and why.
 
And, like the crust on a perfect baguette, your opening sentence should be crisp, enticing readers to dig in for more.
 
The filling: content and substance
 
No matter how delicious the bread is, a sandwich is nothing without its main fillings, be they meat, cheese or veggies, and various other accoutrements, like jam, honey or hummus.
 
When it comes to writing, the best laid structure will quickly collapse if there's no content or substance to shore it up. To flesh out any piece of writing, you need examples and proof points. In the same way that quality ingredients can elevate a sandwich, fresh, credible sources or authentic experiences will add depth and interest to your writing. 
 
But don't go overboard. Just as overstuffing a sandwich can make it hard to consume, a piece of writing with too many ideas can smother a reader.
 
The butter: smooth transitions
 
Butter (or mayo) adds a bit of moisture to any sandwich, rescuing it from dryness.
 
Similarly, good writing relies on smooth transitions to help the reader glide seamlessly from one idea to the next.
 
You want to take your reader by the hand, guiding them through your piece, step by step. Doing this will not only get your message across, but, in the process, you'll be delivering a hit of dopamine to the area of your reader's brain known as the "reward circuit." (It's true! Check out "The Science of Strong Business Writing" from the Harvard Business Review.)

The presentation: design and formatting
 
Visual impressions matter. A sandwich thrown together haphazardly is much less appetizing than one that's neatly layered and cut and presented with a bit of elan on a stylish plate.  
 
And so it is with writing. The most effective communications marry technically good writing with good, clean design. Design helps ensure your words and ideas stand out. This applies to any piece of writing. Even a humble email can be improved by applying simple formatting techniques like sub-headings, bulleted lists, and selective bolding.
 
While our French sandwich was presented in the simplest way possible—in a plain paper bag—on reflection, that was all that was needed. Perfection personified!

Remember this: 
To write well, think about the simple sandwich. Start with a solid foundation, add generous "fillings" of content, include smooth transitions, and present it all nicely.   
Effective Communication
|
Writing Tips & Tools